Super Bowl LVII will pit two openly Christian quarterbacks against one another in a showdown of faith as the Philadelphia Eagles take on the Kansas City Chiefs next Sunday.
Philadelphia Eagles quarterback Jalen Hurts gives God all the credit for his athletic success, insisting that he tries to keep his faith front and center.
"I've just matured and realized that God is everything and He's worthy of praise," Hurts declares. "You have to put Him at the center of everything that you do. That's what I believe."
"All my spiritual wisdom — all of my wisdom as a whole — comes from Him, in some way, shape or form, whether that be passed down from my father, my mother, my grandmother. I just think, in all the things that we experience in life — good, bad or indifferent — you have to keep Him in the center."
"God only made me one way," he said. "That's to be me. That's to be Jalen Hurts.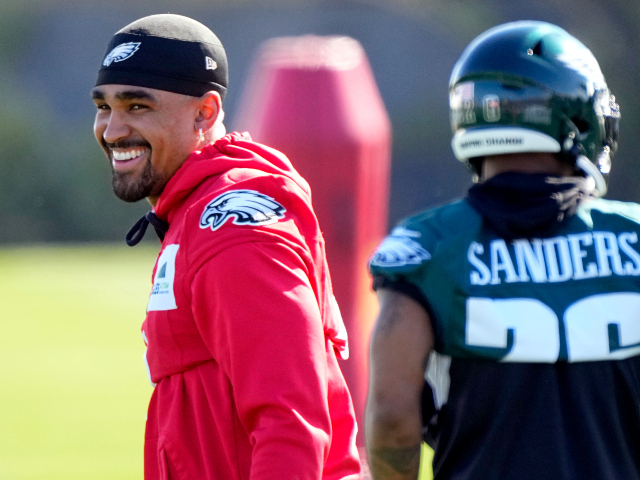 "I think, being in this city, being the quarterback for the Philadelphia Eagles, and just having the opportunity to play the game I love most, in the best city of football, I just go out there every day and I am who I am, and I keep God in the center, I give Him all the praise, I lean on Him all the time, and I know that everything unfolds the way it's supposed to."
On Sunday, Hurts will come face-to-face with another openly Christian athlete, Kansas City Chiefs quarterback Patrick Mahomes, who told reporters last Monday: "My Christian faith plays a role in everything that I do," during the Super Bowl's Opening Night event at Footprint Center in Phoenix.
"I mean, I always ask God to lead me in the right direction and let me be who I am for His name," Mahomes said. "So it has a role in everything that I do, and obviously it will be on a huge stage at the Super Bowl that He's given me and I want to make sure I'm glorifying Him while I do it."
Following the Chiefs' 23-20 victory over the Cincinnati Bengals in the AFC Championship Game on January 29, the 27-year-old quarterback also pointed to God as his source of strength and grounding
"First of all, I wanna thank God, man," he said immediately after the game, which involved playing with an ankle sprain. "He healed my body this week to battle through that. He gave me the strength to be out here."
Directing attention to God has been a constant in Mahomes' football career.
After winning his first regular season MVP in the 2018-2019 season, Mahomes thanked God, saying that "without Him none of this would even be here."
Similarly, prior to the Super Bowl match in 2020, Mahomes told reporters: "Faith has always been big with me."
"As long as I'm doing everything the right way and the way that He would want me to do it, then I can walk off the field with my head held high and be able to be the man that I am," he said at the time.
"I understand that He's given me a lot of blessings in my life, and I'm trying to maximize them and glorify Him," he added.